Theatre Company
---
2019 Fall Play: SHE KILLS MONSTERS
---
About the Play
Set in the 1990's, the stage-combat filled, comedic play She Kills Monsters tells the story of Agnes, a senior in high school, who stumbles into a dungeon and dragons game written by her deceased little sister. Agnes discovers that her little sister created a fantasy world that mirrored her experiences of her real world. She turned them into a game of D & D. Bullies became monsters. Friends became warriors and heroes. The little sister became the mighty Paladin in search of her lost soul longing to be found. By the end of the play, the audience may wonder who the real monsters are. High school students Or Fantastical Dragons? Or in some small way… each and every one of us. If each of us can be a monster, can't each of us also choose to become the hero?
Director: Ms. Meredith Barnidge
Costume: Mrs. Michelle Koski
Tech: Mr. Thomas Wickboldt
Fight Choregrapher: Mr. Dave Maier
Stage Manager: Mr. Frank Brinnkerhoff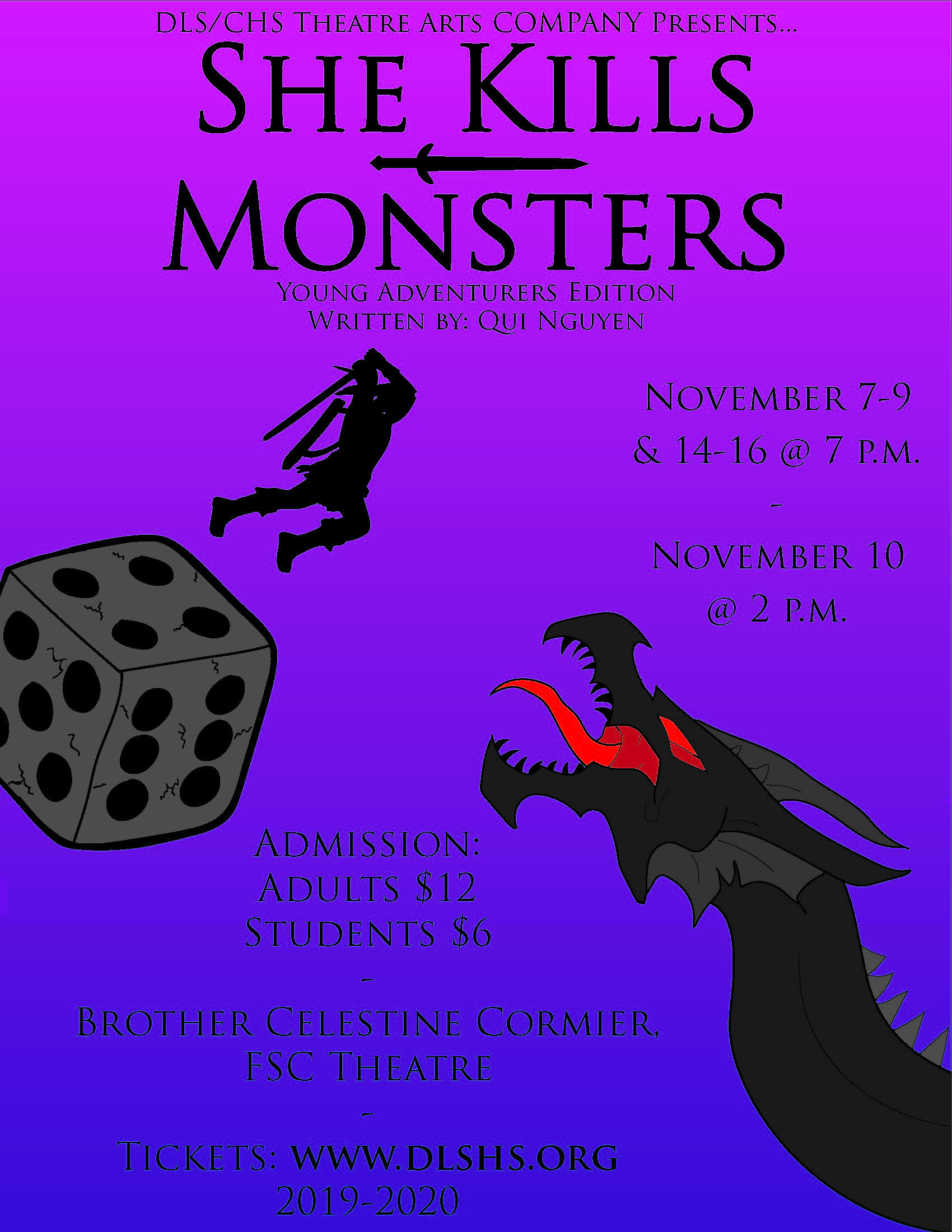 | | |
| --- | --- |
| Character | Actor |
| Agnes | Somachi Uwakwe |
| Tilly | Jazzy Maestro |
| Vera | Sophie Wehrlie & Molly Ouimet (understudy) |
| Chuck | Anthony Lopez & |
| Farrah, Extra Cheerleader | Sienna Coward |
| Miles | Brenden Cline |
| Steve 1 (vs Orcus), Kobald, Goblin, Tiamat | (combat) Ava Menges |
| Steve 2 (customer steve), Kobald, Goblin, Tiamat | (combat) Morgan Rottenberry |
| Steve 3 (vs Faerie), Kobald, Tiamat | (combat) Rose duPont & Olivia BeZanson |
| Steve 4 (real Steve), Koblad, Tiamat | (combat) Anthony Parker |
| Steve 5 (vs Cheerleaders) Kobald, Bugbear, Tiamat | (combat) Kiera O'Connell |
| Steve 6 (Vs Agnes) Koblad, Bugbear | (combat) Clarice Reinwald |
| Evil Tina | Nora Schultz |
| Real Tina | Morgan Rottenberry |
| Evil Gabby | Olivia Brown |
| Real Gabby | Rose duPont |
| Lillith | Eden Herrera |
| Real Lily | Angelica Medina |
| Kaliope | Ava Ribando |
| Real Kelly, Extra Gap shopper, | Olivia BeZanson |
| Extra Gap shopper, Bugbear,Wraith | (combat) Ava Menges |
| Orcus | Bryan O'Malley & Dominic Drummond |
| Real Ronnie, Extra Gap Shopper,Wraith, Umberhulk | (combat) Lucas Santos |
| Narrator | (voice) Lauren Bielawski |
| Bulette | Brian Vega |
| Acting Coach | Julianna Giammona |
| Assistant Director | Robert Nelson |
Dates and Times
Thursday, November 7 - 7 p.m.
Friday, November 8 - 7 p.m.
Saturday, November 9 - 7 p.m.
Sunday, November 10 - 2 p.m.
Thursday, November 14 - 7 p.m.
Friday, November 15 - 7 p.m.
Saturday, November 16 - 7 p.m.
She Kills Monsters is a comedic and action-packed story about a high school girl who discovers her dead little sister had a life she knew nothing about. Dungeons and Dragons Fantasy Role-Playing Game was the sister's refuge and a place of freedom. By the end of the story, the audience can decide who the real monsters are.
Director: Barnidge
Costume: Koski
Tech; Wickboldt
Fight Choregrapher: Dave Maier
Stage Manager: Frank Brinnkerhoff
Audition Dates
Audition August 19 - 22 Audition Sign Up Here
Callbacks August 23
Rehearsals: Monday (fight) 3:30 - 5:30, Tuesday 3:30 - 5:30, Thursday 3:30 - 5:30,
Tech: 10/28 - 11/6 Monday thru Friday 3:30 - 7:30
Shows: November 7,8,9,10,14,15,16
---
SHE KILLS MONSTERS - Please note that all roles are open to all people. If you see a part that you think you can make amazing, go for it. Please prep a monologue from below -
Tilly – a queer teenage girl obsessed with Dungeons & Dragons. Smart, sarcastic and strong but underneath an insecure, bullied girl
Agnes – Tilly's older "average" sister, a high school cheerleader who learns about her younger sister's life by reading her diary
Lilith- Demon Queen, Tilly's girlfriend, powerful, beautiful and bloodthirsty
Lily (Human Lilith) - High School friend of Tilly.
Kaliope- Dark Elf, master tracker, lock-picker, intelligent and above emotions
Kelly (Human Kaliope) - Tilly's BFF. Suffers from Cerebal Palsy
Orcus- Overlord of the Underworld, a mellow, surfer-type, giant, red demon
Ronnie (Human Orcus) - Tilly's BFF suffers a mild case of Aspebergers.
Chuck- a nerdy teenager, serves as the games' Dungeon Master, desperately tries to be cool Miles- Agnes' boyfriend, struggles with commitment, smart jock
Vera- Agnes' best friend who works at the Gap!, brash, sarcastic and unhelpful
5 Steves- D&D adventurers who continually appears and die multiple times
Farah- A cute fairy who is a violent, vicious, badass fighter
Evil Gabbi & Tina – vampire cheerleaders who bully Tilly in the game and in life THEY DANCE.
Kobalds, Bugbears, Tiamat the Dragon - various monsters, lots of combat and puppetry
I need FIVE - TEN cast members ready to learn stage combat and fight as monsters. These cast members could also double as human versions of the adventurers. The Flinds must be able to jump several feet - fully costumed - off mini trampolines. These ensemble parts are nothing to scoff at. They lead our fantasy, and will be the reason our show is awesome.
ALL Auditioners will participate in a dance battle to Gonna Make you Sweat by C+C Music Factory. It will look exactly like this: https://www.youtube.com/watch?v=KqWKOJ6QHfk
Welcome to 1995.
---
She Kills Monsters Audition Sides - Please choose one, this does not need to be memorized. You may also be asked to read a scene from the script.
Agnes: Do want to know what my memories of Tilly are? They're of this little nerdy girl who I never talked to, who I ignored, who I didn't understand because she didn't live in the same world as I did. Her world was filled with evil jello molds and lesbian demon queens while mine…had George Michael and leg warmers. I didn't get her. I assumed I would one day-that she'd grow out of all this-that I'd be able to sit around and ask her about normal things like clothes and TV shows and boys…and as it turns out, I didn't even know she didn't like boys. I didn't know her. That breaks my heart. And now all I have left is this stupid piece of paper and this stupid made up adventure about killing a stupid made up dragon.
Tilly: Are you judging them? I know they're geeky, I'm geeky, we're all geeks. Everyone else cared that I was geeky. They never let me forget it. I mean until I died in a car crash and then suddenly, wow, I'm the most popular girl in school. Why do we play? We play because it's awesome. It's about adventures and saving the world and having magic. And maybe, in some small teeny capacity, I guess it might have a little to do with wish fulfillment. Kelly gets to walk again and Ronnie gets to be super strong and me? I get the girl.
Farrah: Look, you overgrown sack of stupid, just cause I'm pretty don't mean I won't break your face. Seriously, did you see a sign on the way in here that said "Petting Zoo"? Then don't try to touch me! Now get out of my magically enchanted forest, freakzoids. Nice? Do I sound Canadian to you? Ain't no one gonna be nice all the fairy time. Faeries are happy. No one said nice. HAP-PY. And I'm brimming like mad with some magical happiness. And guess what makes me happiest? Laying the smackdown on any lame adventurers who decide to trespass on my magically enchanted forest!
Lillith: The Elf is correct, love. You indeed made Agne's the Asshatted's love companion into a big cube of demonic gelatin. Though I find you monocking your sister incredibly sexy, shouldn't we, you know, kill this giant cube of jello before it kills us? Tillius - You always know, you have my blade.
Kaliope: What's wrong Agnes the Asshated? By the droop of your shoulders and your downwards gaze, it would indicate that you troubled somehow. Though we elves may have heightened speed, agility, strength and attractiveness, we're unfortunatelty lacking in" emotional awareness." We are above emotion. That's a human trait.
VERA: Oh come on. Be honest with me, Miles. You don't care about her. You only care that she's a cheerleader and you're a football jock and it fits nicely within your two dimensional high school dating paradigm. You idiot! You've been together over a year and all you've said to her so far is, "I really really like you." That girl deserves more than that. More than some jock in oversized jeans. You're just some dude. And she is Agnes. My Agnes. Your resume has got to be far more impressive than that to impress me.
Chuck: My homies just call me simply DM Biggs cause, you know, I'm "big" where it counts. As in MY BRAIN! Not because I'm fat. Seriously, it really has nothing to do with body mass index, I'm actually in pretty good shape and my D&D IQ is da bomb! What? You were expecting some near? Cause I'm no nerd. I'm a straight up lady-killah! Yeah, I got a girlfriend! She's not from here though. She lives up in New York and you know what they say about them New York honey's – them girlies are cray cray! Well, we haven't officially met….I mean, in person. We met on the internet. You've been on the intern, right? Have you ever been to New York? I've been there. Seen the Statue of Liberty. Empire State building. Hard Rock Café. Pretty awesome.
Orcus: Man, you're gonna make me miss Quantum Leap! Have you ever seen Quantum Leap? The dude time travels…through time…by leaping INTO different bodies. Different BODIES, yo, and putting things right that once went wrong and hoping each time that his next leap will be the leap home. But for YOU, to be able to face the Tiamat, you must fight and defeat all three of its guardians, the Big Bosses of New Landia. And each one of them are totally badass so – most likely- one if not all of you will die before you get there. So, yeah, you gotta do that….OR we can chill out in my cave and rock us some Thursday Night Must-See TV! Who's feeling me? No? Really, none of you guys are into ER?
Narrator (and Monster): In a time before Facebook, Worlds of Warcraft and Massive Multiplayer Online RPG's, there once existed simply a game. Forged by the hands of nerds, crafted in the minds of geeks, and so advanced in its advanciness it would take a whole second edition to contain all its mighty geekery. And here in the land of Ohio during the year of 1995, one of the rarest types of geeks walked the earth. A Dungeon Master without fear, prejudice, or a penis. This nerd was a girl-nerd, the most uncommon form of nerd in the world and her name was Tilly Evans. But this story isn't about her. This story is about her sister Agnes, the girl who never left home.
Miles: (to freshman) Okay, man. Who are you? Why are you here? Whoa… You are my girlfriend's "secret friend"? Hold up. She didn't tell you about me. Look. I don't even know what you're talking about. But I do know it probably means I'm gonna have to kick your ass. Right here. Right now. Le's Go.
(Later to Vera) Hey, can I talk to you for a minute? I need advice. Agnes is chetating on me with a freshman. You're fine with your best friend fooling around with a fish? Fish. Freshman. Same thing. What do I do? I don't want to break up with her. You don't think I appreciate her? You think I'm standing here in the middle of The Gap fighting with her best friend because I just think she's "cute"? Are you crazy? Of course I "L-Bomb" her. But, Vera, she lost her sister. There's other things on her mind than me. I've just been taking it slow. For her. You're not the only person in the world who wants to protect her. (Beat) Doesn't matter either way, because she's now dating a freshman.
The Evil (Bully-Dancing) cheerleaders are taunting Tilly. Make them EVIL.
Evil Gabbi: I think the reason why she was looking at you, Evil Tina, is because she has the hots for you. Tilly shakes her head no.
Evil Tina: You don't have the hots for me? So, are you saying I am ugly?
Evil Gabbi: Sorry, Evil Tina is just so sentitive about her looks. Tilly shakes her head no
Evil Tina. Then, you do think I'm pretty. Well, of course you think I'm pretty... dyke!
Evil Gabbi: She doesn't mean to be mean to you. I like you. I do. Do you want to join our club? The awesome Evil Club?
Evil Tina: Okay. Sit right here and don't turn around. Tina and Gabbi gigggle. Gabbi crosses to Tilly.
Evil Gabbi: Okay. All you have to do to get into the awesome Evil Club is makeout with me for one whole minute.
---
Monday

8/26

3:30 - 5:30

Stage Combat

Tuesday

8/27

3:30 - 5:30

Read Thru

Thursday

8/29

3:30 - 5:30

Scene 1 - 3

Monday

(No School)

9/2 *

3:30 - 5:30

Stage Combat

Tuesday

9/3

3:30 - 5:30

Scene 4 -5

Thursday

9/5

3:30 - 5:30

Scene 6 - 8

Monday

9/9

3:30 - 5:30

Stage Combat

Tuesday

9/10

3:30 - 5:30

Stumble Thru Scene 1 - 8

Thursday*

9/12

3:30 - 5:00 (early out)

Scene 9 - 11

Monday

9/16

3:30 - 5:30

Stage Combat

Tuesday

9/17

3:30 - 5:30

Clean as needed 1 - 11

Thursday

9/19

3:30 - 5:30

RUN Scene 1 - 11

Monday

9/23

3:30 - 5:30

Stage Combat

Tuesday

9/24

3:30 - 5:30

Scene 12-13

Thursday

9/26

3:30 - 5:30

Scene 14

Monday

9/30

3:30 - 5:30

Stage Combat

Tuesday

10/1

3:30 - 5:30

Scene 15

Thursday

10/3

3:30 - 5:30

Scene 14 - 15

Monday

10/7

3:30 - 5:30

Stage Combat

Tuesday

10/8

3:30 - 5:30

Scene 16

Thusday

10/10

3:30 - 5:30

Scene 11-15

Monday (no school)

10/14*

3:30 - 5:30

Stage Combat

Tuesday

10/15

3:30 - 5:30

Scene 16

Thursday

10/17

3:30 - 5:30

CLEAN Scene 1 - 11

Monday

10/21

3:30 - 5:30

RUN ALL STAGE COMABT

Tuesday

10/22

3:30 - 5:30

CLEAN Scene 12-16

Thursday

10/24

3:30 - 5:30

Clean

Monday

10/28

3:30 -

Dry Tech (Possible stage combat clean)

Tuesday

10/29

3:30 - 7:30

Tech

Wednesday

10/30

3:30 - 7:30

Tech

Thursday

10/31

3:30 - 7:30

Tech

Friday

11/1

3:30 - 7:30

Tech

Monday

11/4

3:30 - 7:30

Tech

Tuesday

11/5

3:30 - 7:30

Tech

Wednesday

11/6

3:30 - 7:30

Tech

Thursday

11/7

5:00-10:00

Banquet, & Opening Night

SHOWS

11/7,8,9,10,14,15,16
---
Ms. Meredith Barnidge
Director of Theatre Arts
Phone Number: (925) 288-8100 ext. 8143
barnidgem@dlshs.org

Mr. Thomas Wickboldt
Technical Director
Phone Number: (925) 288-8100 ext. 7004
wickboldtt@dlshs.org

---
Theatre Company Production Archives