Fabrication Room
---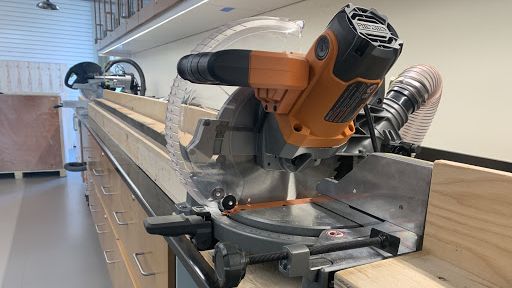 Over the past few years, De La Salle has been investing in the hands-on learning of students interested in the arts, robotics, and engineering. The new Fabrication Room is the culmination of this investment. With expanding interest in the robotics program, technical theater, sculpture, and engineering classes, we needed one room that was dedicated to the use of tools and machinery in all of these disciplines.
In the summer of 2020, Mr. Bedford, Mr. Thompson, Mr. Kelly, and Mr. Wickboldt converted room 501 into this Fabrication Room. Shared between theater set building, metal, and wood sculpture making, and robotics, this room will be a collaborative space for those interested in fabrication, woodworking, metalworking, and electronics. We are excited about the expanded opportunities for hands-on learning and collaboration between disciplines this room will provide to our students.
---
Equipment in the Fabrication room
2 mitre saws
Table saw
Bridgeport milling machine
Laguna computerized CNC router
Metal lathe
Wood turning lathe
3 scroll saws
2 band saws
5 drill presses
Metal band saw
Panel saw
Planer
Drills
Sanders
Pneumatic staplers/nailers
Welders
Soldering irons
And so much more!
Classes using the Fabrication Room
Programs using the Fabrication Room
Fabrication Room Photo Gallery